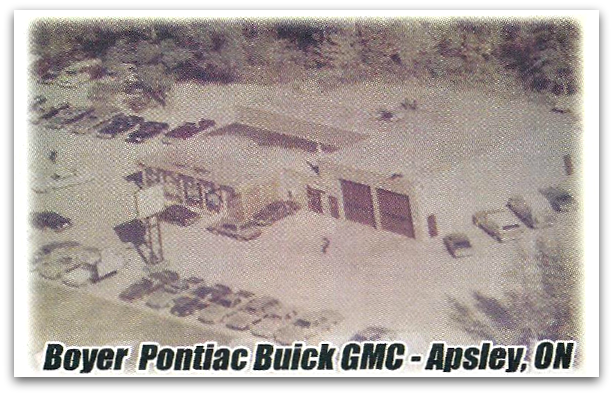 The Boyer Family has been serving the automotive needs of the Kawartha Lakes and surrounding areas for over 30 years.  Michael Boyer opened
the doors to Boyer Pontiac Buick GMC in Apsley, Ontario on Ju
ly 3rd, 1981.  "We have always had an exce
llent staff and a very loyal customer base!" Michael said, when asked what helped contribute to his success in the automotive business.
As General Motors was consolidating their business to fewer and larger dealerships, the Boyer family did not want to turn their back on their loyal customers and employees in Apsley.  Michael Boyer and GM Canada came to an agreement to transfer the Apsley dealership to the new Boyer Chevrolet in Lindsay, Ontario.  At the same time Michael made a very generous charitable arrangement with the township of North Kawartha converting the former Apsley dealership to the up-to-date North Kawartha Fire Hall.
Boyer Chevrolet in Lindsay opened their doors for business in June of 2005.  Michael's son Brandon is now the General Manager there and takes care of the day-to-day operations.  Over sixty percent of the employees from Apsley made the transfer to Lindsay and joined the retained staff of the former Trent Chev Olds.
Joe Hotrum, former General Manager of the Apsley store was a big help in the amalgamation of the two stores.  Joe has been with the company for nearly 20 years, starting his career as a salesman at Michael Boyer Chevrolet Cadillac Buick GMC in Pickering.  "We are very pleased with the friendly welcome we received from the community when we opened the Lindsay dealership and are very happy that we can still take care of our Northern Kawartha customers."
When we asked Brandon, what is Boyer's secret to success in the many communities they serve in southern Ontario?  He replied, "If you do the right thing for your customers and give them exceptional customer service in all aspects of the business, the rest seems to take care of itself."  Boyer Chevrolet has increased their sales by over 20% since taking over the new Lindsay dealership, all the while ensuring a superior customer service experience. 


Boyer Chevrolet Lindsay was named AutoTrader's National Franchise Dealership of the Year for 2015.

We look forward to serving your automotive needs and thank you for your business!
It's worth the drive to 7 and 35!
Call Us Today At 866-979-2763!