At Boyer's, we know the decision making doesn't stop once you drive away in your new car. Maintaining and servicing your vehicle is just as important - if not more - than the buying process.
To keep your vehicle feeling brand new, it is important to keep up with it's regular maintenance. This includes everything from oil changes to brake pads. We know it can be confusing and sometimes stressful to decide when and how to care for your vehicle.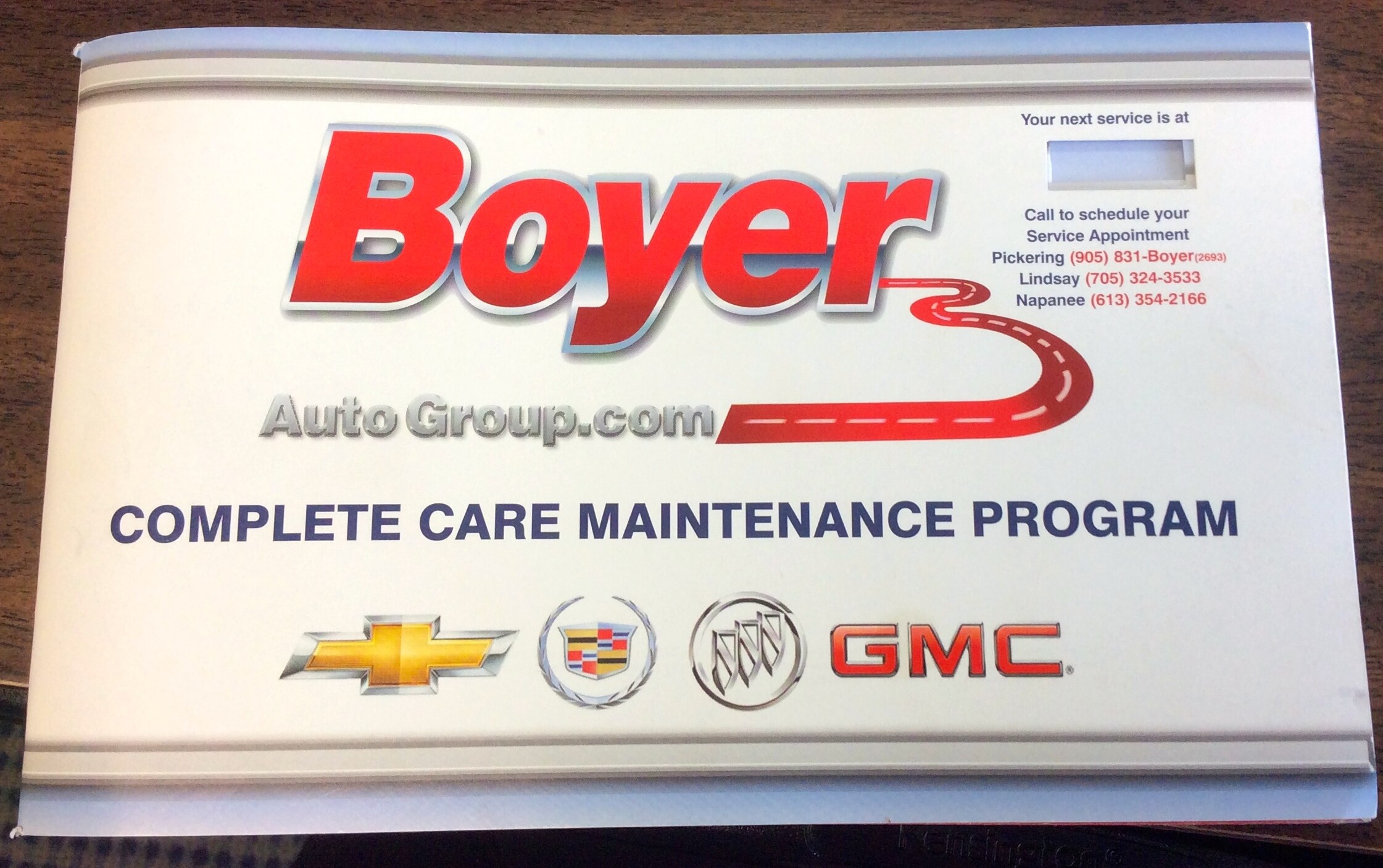 To help clear things up, we have our
Good,  Better
and
Best
options available to you when servicing your vehicle. When you purchase a new vehicle at Boyer's, you receive the
Complete Care Maintenance Program
. In here, you'll see a brief outline of the
Good, Better, Best
outline too!
The way the outline works is simple. General Motors recommends a minimum servicing schedule that advises you to have your vehicle serviced about two times a year. Keeping up with the GM recommended service will allow your vehicle to run smoothly and safely, however the longevity of your vehicle will vary from those with a more frequent up-keep. That's why we include two additional levels of vehicle care for you to follow depending on your vehicle needs, budget and future plans for the vehicle!
 

Every 6 months or 12,000 km

The minimum level of service recommended by GM. (including Tire Rotation)




Every 4 months or 8,000 km

Recommended to keep your vehicle in optimum running condition.




Every 3 months or 5,000 km

The best choice in preventative maintenance to keep your vehicle in excellent condition.


 
With the Good choice, it is important to remember that the oil life monitoring system lets you know when to change the engine oil and filter. Based on driving conditions, the interval at which an engine oil and filter change will be indicated can vary considerably. So, be sure to bring your vehicle into Boyer's as soon as your oil life monitor advises you.


The Better choice is a way to protect your vehicle. Follow the Complete Care Maintenance Program and bring your vehicle in before your oil life monitor light illuminates, to stay ahead of any problems and prolong the life of your vehicle. 

 Having your vehicle serviced every 3 months, or every 5,000 km helps prolong your vehicle's performance and overall lifespan. If you're wanting to keep your vehicle for many years to come, or if your vehicle has a few years on it, this may be the best choice for you.

It is important to note that each choice, whether Good, Better or Best is a positive choice for your vehicle. After all, even the minimum recommended level of service will cover the general guidelines of service for light-use drivers. But remember, the bare minimum of service to maintain your manufacturer's warranty isn't the answer to
preventative
maintenance. When deciding which level of service to choose think of these factors:
How long is my daily or weekly commute?
Do you accumulate more highway or city driving?
What demand do you place on your vehicle? Towing, off-roading, extreme weather conditions, dirty/sandy roads, extensive idling in stop-and-go traffic etc.

How old is your vehicle?
Do you take the vehicle on any long trips/vacations? How often?
Realistically, how long would you like to drive this vehicle?
Your driving habits will be the most important factor when deciding your level of service.
For example: stop-and-go driving = brake service. And trailer towing = more frequent transmission services.

The Good, Better, Best system is offered for many of our services and parts. When you want a tire price we'll offer you the same tiered options!

If the Complete Care Maintenance Program is not the ideal service level for you, speak with our team of Service Consultants to form a more enhanced level of service to follow. We're always here to help and answer any questions you may have. Come in or call us to discuss your service options.
Happy driving!